Whole Home Humidifiers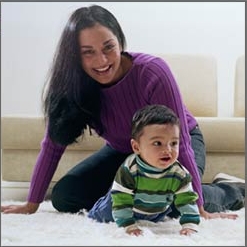 There's a science to managing comfort in your Colorado home, and Air Craft Heating and Air Conditioning knows it. Just locating and eliminating air leaks can cut energy bills up to 30%. Unlike other HVAC companies, we do computerized load analysis to determine the right capacity for your heating and cooling equipment--another way of reducing energy expenditures.

Besides lowering your utility bills, humidity control is very important to your health for a couple of reasons. Mold, which thrives in high humidity, is dormant or dies when the humidity is low. Dust mites also die when the humidity stays below 50%. But remember, the dust mites in your bed rely on you for their source of humidity, so always use mattress covers, pillow covers and box spring encasings.

On the other hand, below 30% relative humidity, people can be uncomfortable and can suffer from dry mucus membranes which can lead to nosebleeds and infections. Low humidity can aggravate the symptoms of asthma and high humidity at high temperatures can sometimes lead to heat exhaustion or heat stroke.
Manufacturers That We Trust
| | |
| --- | --- |
| | Many humidification work only when the heating system is actively running. The Honeywell Whole-House Steam Power Humidification works effectively with your heating system but lets you control the humidity independently, Learn More |
| | A whole-home humidifier from Aprilaire, installed by your heating and cooling professional, will deliver the perfect amount of moisture to your air making you feel more comfortable at lower thermostat settings. Learn More |
| | Dry air causes your skin, throat and nasal passages to dry out and crack leading to various physical discomforts. That is why many doctors recommend humidifiers. GeneralAire Humidifiers can help.Learn More |
If you are looking for a Whole Home Humidifier for your Boulder County home please call us today at 303-800-HEAT(4328) or complete our online service request form.

What Homeowners Say

"Scott was very knowledgeable and straightforward. He was also extremely thorough and conscientious. This equates to the quality professionalism I highly recommend him to my friends and family."

We Proudly Accept the Following Credit Cards