RUUD Heat Pumps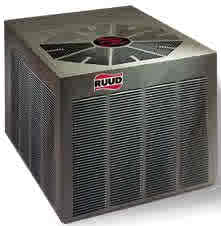 When air conditioning your Boulder County Home, a heat pump and a central air conditioner operate the same. Each one cleans, dehumidifies, cools, and circulates air indoors. In a heat pump's heating mode, however, the process is reversed.

SCROLL COMPRESSOR
The most expensive component of any heat pump is the compressor. Ruud installs CopelandŽ Compliant ScrollŽ Compressors throughout its entire residential heat pump line for proven reliability, efficiency, and sound reduction.

WRAPAROUND CABINET
Ruud heat pump units are constructed with a powder-coat paint finish and galvanized steel cabinet to protect the condensing coil fins from yard hazards, extreme weather, and corrosion.
BASE PAN
The entire Ruud heat pump line uses a sturdy, one-piece drawn and painted base pan. This pan elevates the coil off the pad, helping minimize corrosion while reducing sound and vibration.

PRESSURE CONTROLS
Ruud installs high and low pressure controls on high-efficiency models (options on standard-efficiency models) to protect the scroll compressor from pressure extremes.

OUTDOOR COIL
Ruud heat pumps use an innovative wraparound outdoor coil constructed of copper tubing and aluminum fins. This design allows improved airflow transfer and helps reduce energy consumption.

EASY-ACCESS PANEL
Servicing your Ruud heat pump is easy thanks to the single "easy access" panel. A service technician can easily remove this panel for access to the compressor and control box.

Ruud heat pumps provide year-round comfort for your home or business that are unmatched in features and benefits. They are designed to make your home or business the most comfortable place on earth.

Every Ruud heat pump features the Copeland Scroll Compressor, the most dependable and highly advanced compressor in the industry. They provide quiet, efficient, and long-lasting operation. Ruud is the only manufacturer to use these advanced compressors at every efficiency level.

If you are looking for a Ruud Heat Pump for your Boulder County home please call us today at 303-800-HEAT(4328) or complete our online service request form.

What Homeowners Say

"Scott was very knowledgeable and straightforward. He was also extremely thorough and conscientious. This equates to the quality professionalism I highly recommend him to my friends and family."

We Proudly Accept the Following Credit Cards