RUUD Furnaces

Air Craft Heating & Air Conditioning is a preferred RUUD dealer and can repair or replace any RUUD furnaces.
UGFD Series Furnace
Ultra Series with Contour Comfort Control Upflow Gas Furnace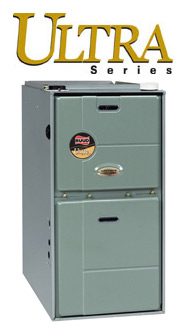 Modulating Gas Valve and Burner

To Keep you comfortable while it keeps your energy bills low, the gas valve delivers fuel to the burner at a variable rate, as required, to maintain the desired temperature. You get the heat you need, when you need it. Designed to provide the most efficient air/gas mixture, the shutter-free design of the burner eliminates the need for adjustments. The burner always delivers its flames directly into the primary heat exchanger for the greatest efficiency.

Modulating ECM Blower Motor

The advanced ECM blower motor varies in speed depending on your demand for heat. And in continuous fan mode, this motor is so efficient that it uses less electricity than a 75 watt light bulb. This motor always operates at just above a whisper, far more quietly than a conventional blower motor, to help keep your home warm and peaceful.

Cleaner Air

By using the very low speed continuous fan mode of this furnace, the air in your home is constantly filtered to help reduce dust while keeping your home at a consistent and comfortable temperature.


UGPN Series Furnace
Achiever Series Super Quiet 80 Upflow/Horizontal Premium Gas Furnace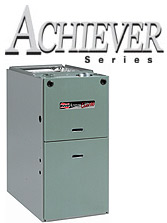 Super Quiet Design

To help improve the sound quality of the Ruud Achiever Series Super Quiet 80, we re-engineered the door and top-plate to provide a sound barrier between the furnace's operation and your home.

In-Shot Burners

The natural (or optional LP) gas is ignited by the direct spark ignition at the in-shot burners. The in-shot burner's shutter-free design requires no adjustments to regulate the air/gas mixture.

Direct Spark Ignition

Direct spark ignition is an extremely dependable and efficient way to light the burner. And it eliminates the need for a standing pilot. For added safety, the remote flame sensor constantly monitors the burner flame to ensure it is operating as it should.
If you are looking for a RUUD furnace for your Boulder County home please call us today at 303-800-HEAT(4328) or complete our online service request form.

What Homeowners Say

"Scott was very knowledgeable and straightforward. He was also extremely thorough and conscientious. This equates to the quality professionalism I highly recommend him to my friends and family."

We Proudly Accept the Following Credit Cards


Benefits of A Furnace Tune-Up
Lower Utility Bills

Extend the Life of Your Equipment

Fewer repairs, breakdowns, and improved system reliability

Peace of mind for you and your family

Increased Heating Capacity