Honeywell Whole Home Humidifiers

Air in your Colorado home that is too dry can be uncomfortable to breathe, and can damage wood products like flooring, pianos, picture frames and cabinetry. In the winter, it's especially important to add moisture to the air, since dry winter air can drive down the relative humidity level in your home to as low as 15%, which is drier than the air in most deserts. A Honeywell Humidifier can help keep the humidity in your home at the proper level.
Many humidification work only when the heating system is actively running. The Honeywell Whole-House Steam Power Humidification works effectively with your heating system but lets you control the humidity independently, so you can add needed moisture to your home without turning up the heat. Honeywell's Steam Humidifier features a thermal switch that turns on the system fan as needed. You'll be able to set the humidity where you like it and enjoy consistent, reliable comfort. Even more, you'll enjoy a clean, efficient system.
The Honeywell Steam Humidification features two-stage water treatment that eliminates scale build-up to ensure clean, reliable performance. The Honeywell Whole-House Steam Humidifier is the perfect choice for homes requiring increased protection for wood flooring, furnishings and decor.
Key Features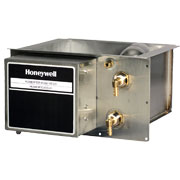 Delivers moisture on demand. Can humidify the air without running the furnace.


Low water cut-off switch and built-in overflow protection are integral safety features.


Can humidify a large home. Protects woodwork, floors, antiques, oil paintings, pianos and fine collectibles.


Covers up to 3000 square feet in the home, evaporating up to 13 gallons.


5-year warranty.


Model Number HE420A1009
If you are looking for a Honeywell Whole Home Humidifier for your Boulder County home please call us today at 303-800-HEAT(4328) or complete our online service request form.

What Homeowners Say

"Scott was very knowledgeable and straightforward. He was also extremely thorough and conscientious. This equates to the quality professionalism I highly recommend him to my friends and family."

We Proudly Accept the Following Credit Cards