Your Water Heater Professionals in Boulder County, Colorado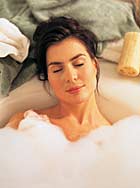 The energy efficiency of a water heater is indicated by its energy factor (EF), an overall efficiency based on the use of 64 gallons of hot water per day. The first national appliance efficiency standards for water heaters took effect in 1990.

The most efficient gas-fired storage water heaters have energy factors ranging from 0.60 to 0.65, corresponding to estimated gas use below 250 therms/year. Condensing water heaters have energy factors as high as 0.86. The most efficient electric storage water heaters have energy factors ranging between 0.93 and 0.95, resulting in estimated annual energy use below 4,725 kWh/year. There is little difference between the most efficient electric resistance storage water heaters and the minimum efficiency standard. Fortunately, heat pump water heaters using less than half as much electricity as conventional electric resistance water heaters are becoming commercially available. If you use electricity for water heating, consider installing a heat pump water heater. Otherwise, look for the most efficient electric resistance unit in your size range.
If your water heater tank is leaking from a fitting, it probably can be fixed. But, if it is leaking from the actual tank, such as a rust spot or seam, it may be time to find a new water heater. Air Craft Heating & Air Conditioning, provides professional water heater contractors for simple repairs, to complete water heater installation services.
Rinnai Tankless Water Heaters

Rinnai Continuum is a compact wall mounted unit with a life expectancy of 25 years. Because the Continuum does not require a tank, the risk of tank-type water heater ruptures is eliminated. Rinnai Continuum can be set to operate at exact user-specifiable temperatures via the digital and easy-to-use control pad placed in multiple locations of a home. This is an extremely important feature in households with small children and elderly individuals to help prevent scalding accidents. Rinnai Continuum also offers flexibility in its wall-mounted locations. Should the user prefer to mount the unit indoors, it safely uses no indoor make-up air and vents directly to the atmosphere. However, a unique advantage of Rinnai Continuum is its ability to be mounted on the exterior of a house, completely removing a combustible device from the home and freeing up valuable floor-space. Additionally, the unit can be mounted in a recessed box, flush-mounted and painted or textured to match the external fade. Learn more about Rinnai Tankless Water Heaters.

If you are looking for a water heater for your Boulder County home please call us today at 303-800-HEAT(4328) or complete our online service request form.

Home >> Heating >> Water Heaters
What Homeowners Say

"Went out of his way to accommodate my schedule. Was very good at explaining my heating/cooling problems and how I could avoid additional problems in the future."

We Proudly Accept the Following Credit Cards