How Does Geothermal Work?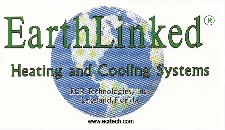 Outdoor temperatures fluctuate with the changing seasons in Colorado but underground temperatures don't. Four to six feet below the earth's surface, temperatures remain relatively constant year-round. A geothermal system, which typically consists of an indoor unit and a buried earth loop, capitalizes on these constant temperatures to provide "free" energy. In winter, fluid circulating through the system's earth loop absorbs stored heat and carries it indoors. The indoor unit compresses the heat to a higher temperature and distributes it throughout the building. In summer, the system reverses, pulling heat from the building, carrying it through the earth loop and depositing it in the cooler earth. What makes a Geothermal system different from ordinary systems? Unlike ordinary systems, Geothermal systems do not burn fossil fuel to generate heat; they simply transfer heat to and from the earth to provide a more efficient, affordable and environmentally friendly method of heating and cooling. Typically, electric power is used only to operate the unit's fan, compressor and pump.
A Geothermal system is three to four times more efficient than the most efficient ordinary system. Because geothermal systems do not burn fossil fuels to make heat, they provide three to four units of energy for every one unit used to power the system.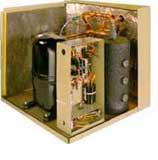 The EarthLinked® system is uniquely simple. ECR Technologies' pioneering spirit, years of intense research and field demonstrations brought about the technological advances that make this simplicity possible.

The breakthrough was in ECR's refrigerant flow controls. They allow the unit to operate with the refrigeration compressor and circulating fan essentially as the only components that consume energy.

Earlier geothermal models were limited by dependency on a large plastic water loop, an intermediate heat exchanger and a circulating pump to connect the exchanger to its heat source. EarthLinked® replaces all of these costly components with a small copper earth loop for a direct exchange with the earth. ECR developed and perfected this simplified design, which substantially reduces the cost of installation and operation while increasing reliability. Efficiency is increased, power consumption is reduced and there is no secondary heat exchanger or circulating pump to clog or fail.

If you are looking for more information on geothermal solutions please call us today at 303-800-HEAT(4328) or complete our online service request form.

Home >> Geothermal
What Homeowners Say

"Scott was very thorough. We appreciated his willingness to come on a Sunday and an evening to get the job complete in the time frame we had. "
We Proudly Accept the Following Credit Cards