Ruud Air Conditioners
Ruud Achiever Series Model UAPC 14 SEER
Air Craft Heating & Air Conditioning - Your Approved Ruud Reliable Dealer in Boulder, CO
There are some things in life you can always rely on. Ruud is one of them.
High efficiency for low-cost cooling - up to 16.35 SEER in certain matched systems

Broad range of cooling capacities from 24,000 to 60,000 BTU/H

The quietest and most dependable scroll compressor made - with a 10-year limited warranty
Quality that Endures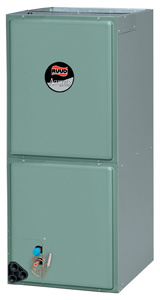 The Ruud Achiever 14 SEER condensing unit combines money-saving efficiency, whisper-quiet operation, environmental-friendliness and superb reliability to bring you total peace of mind in home comfort - year after year. Some air conditioner systems cost more, some promise more - but nothing performs more reliably. It's that simple.
Features and Benefits
Durable Cabinet. Our galvanized steel cabinet protects your Ruud unit from the elements, helping reduce maintenance expense.

Serviceability. Service time and expense are kept to an absolute minimum. The removal of one panel provides Energy Air Control easy access to all internal components.

Low Corrosion. Low Sound. A special base pan elevates the unit off the pad away from corrosive condensation. More quiet performance and lower vibration levels also result.

Fan-tastic. Our motor mount prevents damage to your fan motor, extending its service life.

Wrap-Around Coil. High-quality copper tubing and corrosion-resistant aluminum fins provide better airflow, improving efficiency, and lower operating costs.

Smart Electronics. If your refrigerant level is ever to high or low, on-board safeguards protect your compressor from damage.

Environmental Compatibility. With a full line of certified Earth-friendly PrOzoneT air conditioners, Ruud offers high efficiency units that help you save energy. PrOzone is certified Earth-friendly and meets or exceeds world environmental standards - helping protect the Earth's delicate ozone layer.

Heart & Scroll. The heart of your condensing unit is the compressor. That's why every Ruud unit features a CopelandŽ ScrollŽ Compressor - widely recognized as the industry standard for performance and durability
If you are looking for an air conditioning contractor for your Boulder County home please call us today at 303-800-HEAT(4328) or complete our online service request form.

Home >> Air Conditioning >> Ruud
What Homeowners Say

"Scott was very thorough. We appreciated his willingness to come on a Sunday and an evening to get the job complete in the time frame we had. "

We Proudly Accept the Following Credit Cards