Boulder Air Conditioning Repair & Installation Services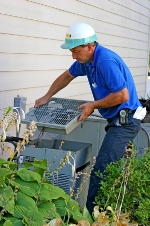 Not sure if you should repair or replace? Well, consider this: if you're operating an inefficient system that breaks down a lot, it's likely that it's going to break down again. That means more expensive emergency service calls or possible damage to the other components of your heating and air conditioning system.

Also consider the ongoing cost factor. You could save up to 60% on your energy bills with new high-efficiency equipment. You see, even if your air conditioner is only a few years old, it could be terribly inefficient by today's energy efficiency standards. Having your Boulder air conditioning contractor install a new, high-efficiency cooling system can actually pay for itself in energy savings within a relatively short time.
Air Conditioning Brands
While it is important to choose an air conditioning system with a history of quality, performance, reliability, and customer satisfaction - the brand itself is not as important as the installation of the air conditioner. If you are in love with a specific air conditioning brand - Air Craft Heating & Air Conditioning can get it. But the brands we carry have been chosen because of their exacting standards. Those brands are:

The Ruud Achiever 14 SEER condensing unit combines money-saving efficiency, whisper-quiet operation, environmental-friendliness and superb reliability to bring you total peace of mind in home comfort - year after year. Some air conditioner systems cost more, some promise more - but nothing performs more reliably. It's that simple. Learn more about Ruud Air Conditioning Systems.
Our Boulder Air Conditioning Repair & Installation Services provide these detailed services:
| | | |
| --- | --- | --- |
| Air Conditioning Sales | A/C installation | A/C maintenance |
| A/C inspections | RUUD Air Conditioning | Geothermal installation |
| Geothermal service | Air Conditioning System | Air Conditioning |
| home air conditioning | Air Conditioning Repair | Central Air Purifiers |
We provide Air Conditioning Repair & Installation Services un the Following areas:
Boulder, CO | Lafayette, CO | Louisville, CO | Superior, CO | Erie, CO | Broomfield, CO
Westminster, CO | Northglen, CO | Thornton, CO | Arvada, CO | Longmont, CO
Why Boulder Should hire Us For Their Air Conditioning Repair & Installation Services:
Our trained professionals are NATE Certified Contractor - When installing, servicing or repairing your heating, ventilation, air conditioning or refrigeration (HVAC/R) system, NATE-certified technicians ensure peace of mind having passed all requirments to be NATE Certified. We are your NATE technicians who have the knowledge to get the job done right the first time.
Also our professional staff will ensure that your homes HVAC system will be installed correctly and that you will have the best possible solutions for your home. Our professionals will take care of your home as they know it is very important to you and as it is important to them. So give our trianed professionals a call and see what they can do for you.
Recent Articles About Air Conditioning Repair & Installation Services:

Increase The Life Of Your Air Conditioning: Whether its hot or cold weather, everyone has heating and air conditioning systems' woes on occasion. Air conditioning systems are not only expensive to purchase, but bad maintenance and negligence can lead to obsolete, dysfunctional systems. (read more)

Air Conditioning- The History Of Air Conditioning - It is so easy in the modern world to take air conditioning for granted. With the advances in technology is now virtually unheard of for air conditioning not to be used in any public building. (read more)
If you are looking for an air conditioning contractor for your Boulder County home please call us today at 303-800-HEAT(4328) or complete our online service request form.

Home >> Air Conditioning
What Homeowners Say

"Scott was very thorough. We appreciated his willingness to come on a Sunday and an evening to get the job complete in the time frame we had. "

We Proudly Accept the Following Credit Cards